UHURU BIZ PLANS OUT: Kenya President Uhuru Kenyatta Unveils Plans to Send His Nationals to Iraq in a Bid to Expand Kenya's Export Market in Africa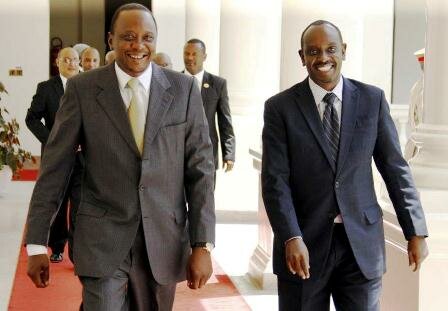 President Uhuru Kenyatta, speaking earlier today at State House, Nairobi, said that the East African Community and Africa will be the cornerstone of his foreign policy in enhancing trade and investment. Kenyatta noted that strong partnership and cooperation between African countries will bolster trade and investment in the continent.
The President was speaking during a meeting with East African Community (EAC) Secretary General Dr. Richard Sezibera who paid him a courtesy call. This mark the first time President Uhuru Kenyatta unveiled what will define Kenya's foreign policy under his tenure in office. President Uhuru Kenyatta and his deputy; William Ruto are facing charges brought against them by ICC relating to the Kenyan election violence about 5 years ago.
He singled out infrastructural development as an area that African countries should give priority to in order to facilitate connectivity and boost cross border trade and investment. He encouraged the pooling together of resources by African countries to accomplish cross-border infrastructure development projects.
On regional trade, President Kenyatta called on respective authorities to take it as a matter of priority and address barriers to trade. He called for the removal of restriction on movement of labour, saying the free movement of people within the region will further facilitate trade and the exchange of ideas.
Currently only Rwanda and Kenya have a bilateral agreement for free movement of labour between the two East African states. Uganda and Kenya, it's been reported, are currently fast tracking arrangements for free movement of labour between the two nations. The East African Community Secretary General congratulated President Kenyatta on his election victory and commended the Kenyan people for conducting a peaceful election.
Dr. Sezibera also commended the President for his personal commitment and efforts to ensure that Kenya remained peaceful and united. During the meeting, the EAC Secretary General briefed President Kenyatta on the forthcoming Extra-Ordinary Summit of EAC Heads of State scheduled for April 28.
Earlier, President Kenyatta bade farewell to outgoing Iraqi Ambassador to Kenya, Dr. Abdel Mustafa Kamil. Speaking during the brief ceremony at State House Nairobi, the President said he looked forward to the signing of an education agreement between Kenya and Iraq that will ensure Kenyans acquire the necessary expertise to exploit the country's recently discovered oil resources.
President Kenyatta said his Government is keen on strengthening relations with other developing countries, saying since the developing countries experience similar challenges they can share best practices in addressing those challenges. The President also stressed the need for unity among Africa and other developing countries, saying it will give them a greater voice at the international arena.
The Head of State thanked Dr. Kamil for boosting bilateral relations between Kenya and Iraq during his tour of duty in the country and wished the outgoing envoy success in his new assignment. The Iraqi ambassador said his country has a lot of experience in oil engineering and since oil has been discovered in Kenya, the signing of an education agreement will provide a suitable framework for Kenyans to tap into the Iraqi expertise in oil exploitation.
---
1833 Views
---
More Picture(s)