ASSASSINATION EXCLUSIVE: Shocking Details have Emerged on How Police Boss Lt. General Kale Kayihura's Car Accident was a Planned Assassination, as the Prime Suspect is Charged with Attempted Murder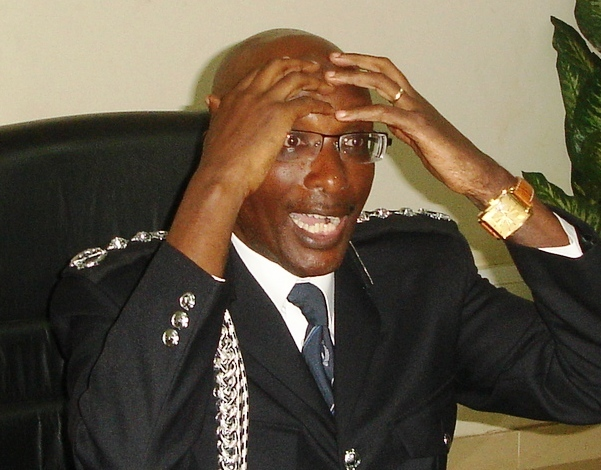 President Museveni is said to have ordered for thorough investigations into last Friday incident where his blue eyed boy, General Kale Kayihura's lead car was involved in a head-on collision accident, an event his intelligence gathered, was an assassination attempt.
At least five people including four police officers were injured in a morning motor 'accident' at Mayanja trading centre along Kampala-Gulu highway, as the Inspector General of Police travelled to Nakasongola for the National Women's Day celebrations.
The 9:15am incident saw the General's lead car, a pickup truck registration number UP2406 knocking head on, a Kenyan registered trailer number KBD 547N, driven by Fredrick Ruhigado, a Kenyan national whose recklessness attracted kick-boxing from the heavily vexed Cops. Accounts that the offensive driver was trying to overtake another trailer registration number ZC 9346 have since been rubbished by the President.
"He ordered for special investigations after his intelligence smelt a 'stage-managed' accident meant to finish Kayihura," our State House source offered last night. But even upon the incident, Kawempe Divisional Police Commander (DPC) Siraje Bakaleke, hinted that the accident seemed every inch, a stage-managed one. But Kayihura escaped any injuries.
And indeed, the driver Fredrick Ruhigado was this morning at Nabweru Magistrate's Court, charged with thirteen counts, attempted murder inclusive. "We preferred 13 counts against him. He has been charged with Reckless driving causing bodily injuries with six counts, attempted murder which also attracted six counts and, reckless driving with one count," Ibin Idd Ssenkumbi, the Kampala Metropolitan Police (KMP) spokesperson confirmed shortly ago.
The Ugly Truth
Last week in our top pages, we carried a story of how some rebellious elements from within and outside the ruling circles, were reportedly chasing after Kayihura and First son, also SFG Commander, Brigadier Muhoozi Kainerugaba. The plot, which we quoted Kayihura as having admitted to have had a clue of, is mainly targeting President Museveni whose strength, both psychologically and physically, the rebellious groups want chopped.
In the same story, we laboured further that the group has a command centre in the city outskirts where, sophisticated tracking gadgets are fixed. The arguably organised group is known to be keeping a 24/7 scientific surveillance on their targets. And the President is known to have been briefed that the Kayihura assassination was highly net-worked, use of tracking devices, suspiciously planted in one of his vehicles inclusive.
It is believed that the choice to use an accident-assassination on Kayihura is because the General is too elusive to them. To start with, Kayihura is always out in the field and with huge crowds around him. At home he is heavily protected as well as at office. It is also very common for Kayihura to drive self in private cars as his convoy moves empty of him.
Kayihura is a very rare figure in public/happening places. He is only there for meetings and even then, he moves with home-prepared food and tea so, he rarely eats out. Unlike his co-target Muhoozi, Kayihura doesn't taste any tribe of liquor. This means he never rubs shoulders with his would-be friendly enemies. But even then, the ever security conscience General scarcely entertains the normal one-on-one chats with armed colleagues but civilians.
On the fateful day when the lead car driver, Corporal Ngobi saved his life, Kayihura, whose communication gadgets we won't retort are long hacked, the trackers knew he would for sure be travelling on the accident-fertile Gulu highway. President Museveni and his investigators scrutinised the scene photos and ruled out an innocent, normal accident and for that, the senior defensive driver Ngobi is set for a thank-you token.
Investigations are also aimed at finding out whether the trailer driver was being briefed about Kayihura's convoy progress on the road. "It would take a junior and or a learner to take over an equally big truck in a trading centre. And it is a must requirement that a lead car puts up sirens in busy places so, there is no way the driver could not have noticed the police car in such a short distance," explained an investigator privy with the investigations.
In normal cases, any driver in a small car would thrust off the road in case of the confrontation of such a big truck. But the trained and heavily brave Ngobi chose to be the stopper of the monster, which would have rammed into his boss' car, had he shoved off the road.
The Cause
Since the incident, close allies to the General describe him as having nightmares of late. "The fool nearly killed me," are common words whenever he is surrounded by his trusted few. But why would the pragmatic, loyal and trusted top soldier be targeted? It is simple and precise.
It is an open secret that before President Museveni, Kayihura and Muhoozi are the most trusted Generals. And this attracts a lot of assignments from the big boss, even out of their jurisdiction, whoever is knowledgeable of how it pains to make a General redundant, is the only person who can tell what we mean here.
It has been severally written and said that before going to bed, President Museveni calls the top five Generals in strategic security positions. But it is to the knowledge of his top colleagues that it's Kayihura he calls last for wrap-up intelligence, even outside his police circles. And for this, Kayihura enjoys more enemies than friends within the high command circles. But this is a long story, probably for another time.
---
17613 Views
---
More Picture(s)