SECURITY EXCLUSIVE: Rebel Threats Take Form, Mpala Police Attacked as President Museveni's Blue Eyed Boys, Lt. Gen. Kale Kayihura and First Son Brig. Muhoozi Kainerugaba's Heads Are Targeted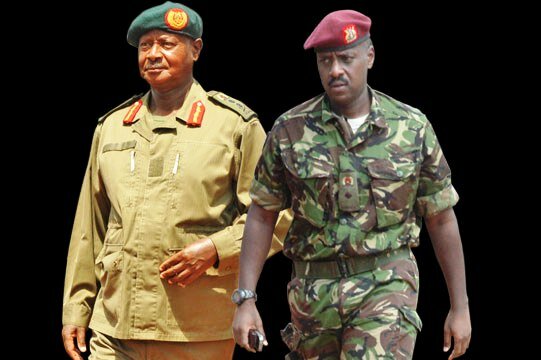 Highly believed rebel elements last night attacked and disarmed policemen at Mpala police post, Nkumba along Entebbe road, a raid that went efficiently without any hassle between the attackers and the attacked.
At least five police officers attached to the post have this morning been arrested and detained at Entebbe Police Station. The police authorities highly suspect it was an in-house arrangement, to have guns 'lost' to their 'attackers.' Police chief mouthpiece Judith Nabakooba said. "The loss of a gun must be thoroughly accounted for. They are detained as we investigate."
The invasion, whose details Nabakooba says would release later, comes barely a week after thirty five, widely believed rebels aka "thugs," attacked Mbuya barracks where, bullets kissed tissues and one of the raiders put out of action. And it's barely three days when an arguably disgruntled soldier, a Pvt. Patrick Okot of Bombo barracks, showered bullets on ten civilians before he fled into thin air.
Whereas the official Uganda Peoples' Defence Forces (UPDF) claims the naughty acts are committed by thuggish individuals within the armed forces, reliable security sources have intimated that its rebel elements who are serving interests of a well-organised rebel group whose leadership is feared to be from both within and outside government.
The rebel group, whose name is still a mystery, is said to have advanced in most of the plans. And they are now, reportedly concentrating on finding means of getting more weapons and, destabilise the person of the President by planning civil disobedience and, bumping off his trusted lieutenants including his own son Brig. Muhoozi Kainerugaba and police boss, Lt. Gen. Kale Kayihura.
Being First Son aside, Muhoozi is Commander of the Special Forces Group, an elite particular force responsible for providing security to the President and to Uganda's constitutional monarchs. The Special Forces Group is also responsible for providing security at Uganda's oil installations. And Kayihura, the Police top boss, is arguably one of the most trusted Generals whose phone Museveni reportedly call last before going to bed.
About two months ago, this writer confronted Kayihura on the alleged rebel activities and he confirmed to have a clue about the same. "We have heard of that intelligence. I remember assigning some people to handle but I am yet to get feedback," he, that evening at his Parliamentary Avenue-based offices, confirmed.
The Plot
It is believed that the rebel group has its training grounds in Easter Region, in one of the Districts that touch River Nile shoreline. The rebel camp is highly suspected, and strongly alleged to be headed by a strong political leader in the opposition, and some disgruntled serving officers. Sources further intimate that the recruitment has been covertly done for about three years now.
"They recruit young, educated but unemployed boys, whom they convince, are going to train in police. But also targeted are the disgruntled members of the armed forces like the dismissed, suspended, on forced leave and, some UN returnees that are desperately pending redeployment and or in lesser fertile offices," offered our source last night.
It is heavily alleged that those (recruits) who finally grasp the ideology of the Camp's mission, are sneaked to a neighbouring country from where, they are polished with how to build structures. They are then helped with employment from different countries until that ripe time when, the signal will be sounded. They are said to have put a 24/7 surveillance on their targets like Kayihura and Muhoozi, thanks to their command centre in the outskirts of the City, with sophisticated security gadgets that can intercept call data, hack into emails and with access to several confidential documents and information from the armed forces, courtesy of the intended leakages within the system.
"Known of them is that they have secured and still collecting guns which they are positioning in strategic places, waiting for any well-planned civil disobedience," sources our security pry. The well-facilitated rebels are also said to have compromised residents near their training camp whom, they shower with tokens and handouts. Schools are also not spared by recruiters, according to our irrefutable sources.
The intelligence reports that we confirmed are being followed, have it that senior citizens, political leaders, and elements from armed forces are highly suspected corroborators. Watch this space...
---
17850 Views
---
More Picture(s)