INSENSTIVITY UNBELIEVABLE! Swedish Youth who was Sodomized by his Doctor before Forcing him into Sex Reassignment Surgery is Rotting Away In a Kampala Clinic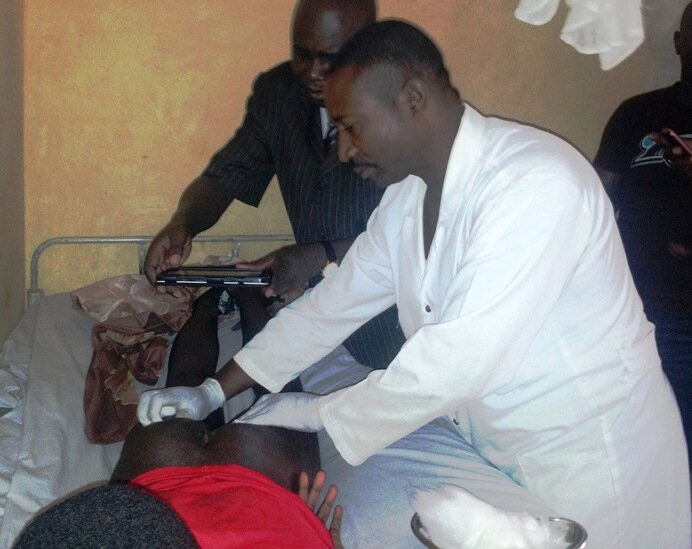 Just as we were getting to terms with Fr. Anthony Musaala's earth-shattering dossier on how fellow priests and Bishops allegedly, abuse young boys and girls sexually, a Swedish young boy, Seth Mpundu has thrown us aback.
A victim of sex abuse via sodomy, Mpundu, 20, is rotting away in Makindye-based Bethsaida General Clinic, belonging to Dr. Mbiriizi Kaseke, a Congolese national who is trying his best to revive the boy's life and tissues. Mpundu is a son to yet unidentified Nyamurenge couple but he was born and raised up in Sweden.
The Story
It is a shocking tale of a young man who, fell victim of his own family Doctor, a one Beth, back in Sweden. It all started close to a year ago when the boy visited his Doctor at Ostra Sjukhus (South Hospital) for blisters on his genitals. On arriving in the treatment room, thinking it was a normal medical procedure, it dawned on him when he was treated to anal-fisting by use of hand.
The Doctor told him he was yet to diagnose his ailment and gave him an appointment for the following afternoon, a thing the boy kept to the dot. Deep in pain, Mpundu says it is on this day that the Doctor told him how deep he loved him. In the name of treatment, he was sedated and quickly ran out of his senses to a fainting posture.
When he came to, he realized that he was being fondled by the Doctor and at this time, he felt a strange sharp pain in his rectum. "When I asked the Doctor, he assured me it was part of the medication. He allegedly went on to drill the lad before threatening him with death, just in case he uttered a word of his experience in the treatment room.
Convinced by the Doctor that it's only through him that he will ever recover from his 'deadly' ailment, the freaked out Mpundu kept obeying each of his directives. "I even started honoring his evening visit invites at his hospital apartment where he continued to sodomise me, almost on a daily basis," retorts Mpundu in a heavily broken mixture of English and Dutch.
It was after several months when the Doctor came up with an eye-raiser suggestion. "He told me he wanted me to become his wife and that he had finalized all arrangements to genitally turn me into a woman, a situation he claimed will change my life forever," Mpundu says he was again drugged and on waking up, it was yet another stunning pain, this time round in the area between his balls and anus.
The Doctor 'happily' announced that he had succeeded in making him a woman. Dr. Mbiriizi explained that his Swedish counterpart, whom he described as a surgical expert given the job he did on the boy, indeed made a surgical procedure on Mpundu with the effort of making him a woman. And as Mpundu further narrates, Dr. Beth continued using him both from the newly created 'vagina' and the anus. He however says he used to faint out of pain at every counter.
The Discovery
A month ago, Mpundu travelled to Uganda with his brother Eric Nzovu for a three weeks holiday. They booked and stayed at a Motel in Rubaga. All this time, Mpundu faked to be fine until Tuesday when his brother told him to get ready for a flight back home. He said he would only be taken back to Sweden in a coffin but not when in true senses.
The tone in which Mpundu vowed shocked his brother who, pleaded with him to open up on why he hated his country. "He broke into uncontrollable tears and I cuddled him for a long time before he could speak a word. He asked me if I could leave him behind as a tourist and or connect him to anyone I know who can process him a working permit," narrates Nzovu.
This pushed Nzovu to even plead deeper for his brother to open up. "He cried again but this time, broke his long-kept secret. He told me he had two sexual organs and was living in unbelievable pain yet he would die if he confided in anybody," Nzovu says his brother opened for him the rotting underneath which sent him into a semi-coma before releasing a wail that made their hosts think a worst had happened to one of them.
Mpundu then reiterated to his brother that due to the torment he had gone through for a full year, he was not in any way stepping on any Sweden-bound plane. "I am in a terrible and possibly eternal pain, my 'vagina' has turned septic and passing stool is the practice I think of as hell," Nzovu quotes his brother.
Search for Treatment
Nzovu says he communicated to a few of his contacts in Kampala who directed him to Dr. Mbiriizi's Clinic. Dr. Mbiriizi states that indeed the rectum had had several unsual movement s which confirm the fisting and that the other passage was a sign of a trial to create a female organ which he says he is going to deal with first.
Pressed on whether he has expertise to arrest the tricky situation, Mbiriizi, whose treatment exercise sent most of the observers, including our pries to throw up, assured us he would handle but hastily added that he wouldn't hesitate to seek any particular specialized colleague, just in case.
On our visit this afternoon, we found Pastor George Oduch of Victory of Christ Church in Luzira who is part of the anti-gay movement led by renowned Pastor Dr. Martin Ssempa. Contacted, Ssempa said he was in advance stages of contacting the Swedish authorities here for their national's wellbeing and treatment costs first.
Dear readers, we attended the first operation on Mpundu this afternoon and covered it via both visual and still pictures. We feel they are too nasty pictures for optical nutrition and hence retains them for now, unless otherwise. (ED)
---
18810 Views
---
More Picture(s)