HUMOROUS PATIENCE M7: Down-to-Earth First Daughter Patience Rwabwogo Shocks Jinja Road Cops, as She Declares self Penniless but a 'Prayer Tycoon' before Indeed Tipping them via the same – Prayers!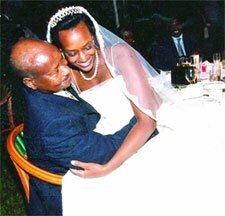 She is always referred to as a humble, down to earth, God-fearing, and patient, a rare character to find in the person of a First Daughter especially in Africa. But that description of Patience Kokundeka Museveni Rwabwogo was known by a few high-class nationals until yesterday.
Tension and excitement, in the same measures gripped Jinja road police Station Cops last night March 12th 2013 at 2pm when, a mildly escorted Patience emerged in the corridors of the Station. Arguably guided by a disguised plain-clothed bodyguard, she walked upstairs up to the OC CIID, SP Bogere's office.
News of her presence ran around like a bush-fire and in a few minutes, Cops postponed whatever was on their hands and kept peeping in the corridor to snatch a glimpse of the First Daughter. But there was mixed feeling amongst them as many believed that their boss Bogere would be in issues with the first family.
Little they knew that in their cells was a high-profile suspect whose particulars have since been protected like the Rome's conclave at this time. Those in the earshot distance offered that after exchanging pleasantries, Patience politely told Bogere that she was at the place to visit an inmate.
The now less-panting Bogere saluted and offered to bring the suspect up in office but to his shock, Patience said, "no officer, he is a suspect with limited privileges. I can see him from a permitted area but not your office." The humbled Bogere adhered and ushered her to the Cell Holding Area (CHA) from where, she chatted with the suspect briefly before he was taken back to the cells.
Penniless Patience
By this time, Cops were sure the First Family member was amongst them on an ordinary and courtesy cause and for that, they had grown fearless and several managed to freely gather around her. On accomplishment of her mission, a smiling Patience roved her eyes around as she endlessly thanked them with her hands reaching for the purse.
To everyone's shock, Patience's face turned instantly as she checked her bag saying, I was looking for something small for you but err...err... Oh my God, I can't find money on me!" And yes, she only pulled out coins amounting to Shs900. She then downplayed the incident saying, "Well, I am like any other Ugandan, I too can run broke but money is not anything. I can do for you what I do best and that is, pray for you."
She beckoned them around her and, started praying for them as she waved her raised hands over their heads. The prayer took like three minutes and Patience begged to leave. But she left mixed debates behind as some Cops were had whispering that an axe is hovering over her 'Purse Manager' for letting her move with an empty wallet.
"If she personally handles her purse, she would know there was no money but she proceeded to hunt for it. She didn't know she is penniless for sure," a lady Cop argued as many nodded in approval.
Who Is Patience
Patience Kokundeka Museveni Rwabwogo, 32, is President Yoweri Kaguta Museveni and wife Janet Kataha Museveni's third child. She is always described as one of the young, prosperous and ambitious women. She chose to invest her own fortune and devoted her life to serving God.
Six years ago, she started her own worship centre, The Covenant Nations Church, which today is steadily growing. It's easier for a camel to pass through the eye of a needle than for a rich [WO] man to enter the Kingdom of God, according to the Bible. But Patience Rwabwogo just might prove this assertion wrong.
Very little is known about the childhood of Museveni's children. This is because they spent most of it in exile, Kenya and Sweden. However, Patience's unique personality began to emerge when she joined Mt. St. Mary's College Namagunga in 1991. Those who studied with her, have only compliments about her friendly character, calm demeanour, and warm heart. Indeed her academic performance was outstanding as she managed to pass with nine aggregates in six subjects at O-level.
"She was the President's daughter yes, but Patience was a friend to everyone. At first when she arrived, we thought she would not even talk to us. But she was really down to earth. One thing I remember distinctly is that even back then, she was very religious," says one OG.
"I always got the impression that she really wanted to lead a normal life in spite of her security detail. She felt comfortable around everyone."
Daddy's Girl
It has severally been written and observed that Patience is President Museveni's favourite daughter, and this explains why he even named her Kokundeka, after his fallen mom Esteeri Kokundeka. And on her wedding day in 2002, Museveni emotionally spoke about his daughter.
After proudly walking her down the aisle at Namirembe Cathedral, he also spent much of his speech extolling her virtues. At the Reception at Speke Resort Munyonyo thereafter, Patience spent a lot of time sitting on her daddy's lap and he gave her a big cuddle like he would do to a little girl. Then they shed tears like they would never see each other again.

Museveni revealed to the happy guests how different Patience has always been from the rest of her siblings; respectful, obedient and God fearing. Apparently the President hates permed hair; but while his other daughters 'disobeyed' him and treated their hair, Patience did not. She just cut it short and left it natural.

But Patience is adored not just by her family, friends and church congregation. Her husband, Odrek Rwabwogo, is a blessed man. Friends of the couple say the two adore and respect each other. Odrek adores his wife so much that he calls her 'Tangaaza' which means 'light' in Runyankole. (Back-ground report is partly sourced from The Observer of July 08 2009)
---
18783 Views
---
More Picture(s)