MENTALLY QUESTIONABLE! Hon. Samuel Odonga Otto's Gesture of Adopting His Own Kids Prompt us to Zoom into Several Politicians with Similar Character of the Remorseless Aruu County MP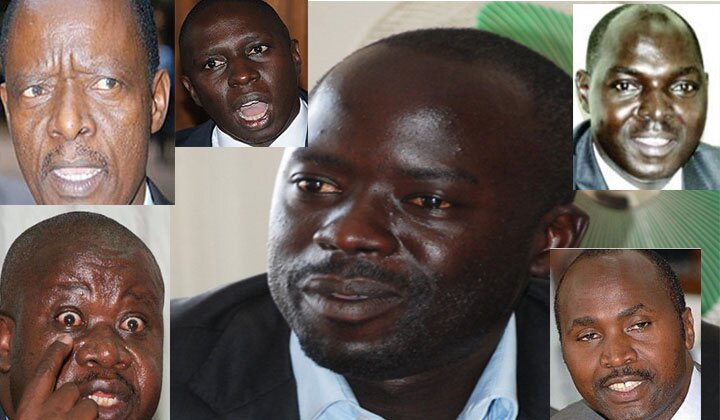 Psychologists believe that every human being have a degree of insanity. It's also believed geniuses usually have some disorder that borders on insanity. For so many years the western countries told stories that slain Libyan leader Col El-Muamar Gadhafi was insane. Although the man passed on, we have never known whether it was indeed true that he was mad.
Likewise In 1998, while still a bitter man living in exile, former President Godfrey Binaisa told The New Vision that Museveni's obsession with war had affected him mentally. At that time Museveni had been fighting for over 20 years and Binaisa believed that the son of Kaguta (RIP) couldn't have gone through all those wars without incurring mental effects related to post-traumatic disorder (PTD).
Binaisa derived his argument from the fact that the Americans believe that if a person has been fighting for over five years, they get ill from the PTD condition. Although it was Binaisa's opinion about the Ugandan President, we cannot be in position to make the same claims because it was mostly founded on mere assumptions.
And the argument about the mental state of most Ugandans began from there. We have since had so many surveys mentioning psychotic people in this country. Please try to make a distinction between being controversial and behaving psychotic. At one time a police survey revealed that 90% of Ugandans were mentally 'sick' due to taking drugs. On the other hand we also heard that some of our members of parliament are psychotic.
What's wrong with Hon. Otto?
And just this week we have had the shocking story of the Aruu County MP Odong Otto, struggling to adopt his own, yes…biological children. In fact our research shows that no other person in the whole world has ever done what Otto has done –adopting one's own children. Hence this comfortably put him as a record setter the world over.
Otto's story has since attracted one of the biggest readerships in The Investigator pages. As I write this, the views are staggering at 20,600+ figures. And individual readers are questioning the mental state of the MP, as they are short of answers to what could have been the motive. At one time, the same Otto exchanged bitterly verbal missiles with Col. Phinehas Katirima, the Army Representative in the August House, over plans to impeach President Yoweri Museveni.

In full view of parliament staff and some journalists, Otto stubbornly approached Katirima, who was fully dressed in military fatigue, and told him that as an MP, Katirima was duty bound to bring Museveni to account for the crimes he has committed against the economy through corruption and signing off the sums of money in shady transactions to businessman Hassan Basajjabalaba.
But an angry Katrima first chased away the adamant Otto, telling him to burst while calling him a joker. Katirima shouted at Otto that he is not a joker in politics and would not entertain any comical approach to issues. Katirima later pushed Otto to make way for him and moved but Otto followed him, trying to hold his hand to have a discussion, but the cool-headed Soldier threw his hands off as they walked together towards the parliamentary chamber.
But this child adoption story has gone too far in exposing the 'psychotic' traits of the legislator. Especially, given the fact that it is the very children he paraded along with their mother before Parliament and the public on March 29th 2006. This was to prove to Hon. Ruth Nankabirwa who had earlier described him as 'just a young boy,' and hence he paraded them to prove he is a father, a husband and a grown-up family man at that.
Whereas Otto's stance remains a mystery for now, it draws our attention to political celebrities whose acts can easily be described the Binaisa style, atleast to an extra-ordinary eye. Please read on.
Hon Margaret Mbeiza
A person like Kaliro District woman MP, Hon Margaret Kirisa Mbeiza, who was once, unsuccessfully appointed by President Yoweri Museveni to become the state minister for Economic Monitoring, fits well in this analysis. She failed to go through the vetting process at Parliament and her approval was deferred for further clarification as she was believed to be mentally unstable.
Issues of her alleged insanity have remained justified by the fact that she failed to disprove the people who believed to the contrary of her persona. And as we speak, she failed to realize her dream of becoming a Minister. Close pals to the Mbeiza will tell you huge volumes of stories of her ever unstable minds.
Barnabas Tinkasiimire
It's normally their unusual behaviour that has attracted conclusions to the 'mental disturbance' effect. It's not new anymore, and we bet you are not hearing it for the first time, that the recently expelled NRM rebel MP has been bluntly regarded as 'mentally ill' by many of his peers due to his aggressive character. He speaks with unconventional aggressiveness that is not common to a Honourable Member of Parliament.
He has also done some unusual things that border on insanity. At one time Hon Tinkasiimire got inspired by the famous chimpanzee called Zakayo and used it as a campaign tool to force president Museveni to step down. At that time, Zakayo (RIP), was 47 year old, a leader of ten others at the Uganda Wildlife Education Centre (UWEC) before handing over power due to old age, and replaced by a 15yr old.
The life expectancy of chimpanzees in the wild is about 30 years and or 60 in captivity because they are provided with medical care and food. But Hon Tinka, as he is famously called, found it a story to use for political purposes. And for that, He has since been regarded as one of the many psychos around town. We won't remind you of his face-off with Hon. Musa Ecweru over his wife's mysterious death.
Ken Lukyamuzi
Many regard him as one of the biggest clowns in the Ugandan Parliament because of his knack for 'cracking' jokes even when he is articulating issues of national concern. John Ken Lukyamuzi 'The Man' is the controversial President General of the semi-defunct Conservative Party. But he has never looked serious.
He speaks slangs when he is articulating issues of national concern and his views are never taken seriously. One ought to be pardoned for regarding him as one of the big-name 'psychos' this Country has ever boasted of.
Mohammed Nsereko
Another possible 'psycho' is non-other than the recently expelled Kampala Central MP Hon Mohamed Nsereko. Some critical citizens have hinted that he could be one of the people who behave psychotic, though no medical proof is available for this.
Many have questioned the force behind his aggressive and bellicose statements he bluntly utter at every given byte opportunity. He is one man who speaks seditious and treasonable statements and feels proud about them. At one time he shocked the country when he made a sky jump form over ten feet up into the hands of the yelling crowds.
While shouting 'mbuke, mbuke' (luganda word for 'should I jump'), Nsereko risked his life and could have incurred serious bodily injuries with his clownish jump. And many of his critics have since labelled him as one of the 'psychos' around town.
Faith Mwondha
A person like the former IGG faith Mwondha were feared to be of questionable tempers. And those close to her insist that she is disturbed upstairs. This was derived from the aggressive manner with which she executed the corruption cases. And indeed when time came to renew her contract, she had a fight out with Parliament. The final verdict of that altercation was that she was mentally unfit to continue as the IGG.
And when she quit the IGG's office and re-joined the Judicial Service Commission, news filtered through that it had initiated investigations into the alleged misconduct of Nakawa High Court judge, following accusations that she ordered out journalists from her open court sessions.
The petition to investigate Mwondha was filed by the Human Rights Network for Journalists-Uganda (HRNJ-Uganda), which urged the Judicial Service Commission to restrain Mwondha from witch-hunting the media. That act together with the unnecessary fights she had with the vetting committee of Parliament left many people wondering whether she is just controversial or somehow 'psychotic.'
Several of our celebrities fall in this category as we shall go on with the investigations but in this very piece, we also hesitate to forget Honourable Members Vincent Kyamadidi of Rwampara County in Mbarara, Kahinda S. Otaffire, and the Rwemiyaga County representative Theodor Ssekikubo
The Characteristics of a Psycho
The word psycho sounds vulgar but it's a slang that has been used for a very long time to mean someone who exhibits the unusual behaviours that border on insanity. The study of the psychopath reveals an individual who is incapable of feeling guilt, remorse or empathy for their actions.
They are generally cunning, manipulative and know the difference between right and wrong but dismiss it as applying to them. Psychos are incapable of normal emotions such as love; generally react without considering the consequences of their actions and show extreme egocentric and narcissistic behaviour.
And as you can see, no trace of remorse in Hon Otto's record-setting successful adoption of his own biological kids. Boldness is another character you can use to identify a psycho; Low fear including stress-tolerance, toleration of unfamiliarity and danger, and high self-confidence and social assertiveness are some other traits of a psycho.
Other signs include poor impulse control, including problems with planning and foresight, lacking affect and urge control, demand for immediate gratification, and poor behavioural restraints. Meanness; lacking empathy and close attachments with others, disdain of close attachments, use of cruelty to gain empowerment, exploitative tendencies, defiance of authority, and destructive excitement seeking amongst others.
In Uganda, people with psychotic behaviours are usually regarded as controversial. Yet the truth is that they have some mental issues.
---
1398 Views
---
More Picture(s)