HARVESTED: Celebrated Soldier Conman and Deserter CPL Giita Musoke is Finally Arrested after a Year-long Search over Impersonation and Rip-off Activities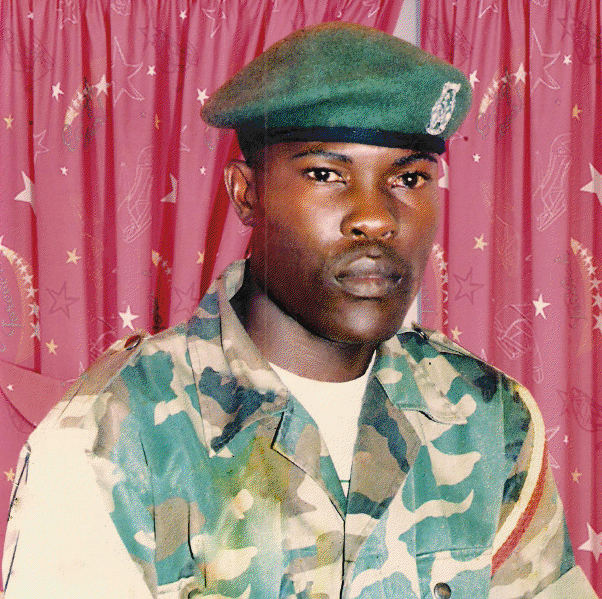 Chieftaincy of Military Intelligence (CMI) operatives last night fished out the long-sought-after UPDF deserter RA/54262 CPL Giita Musoke John Bosco who is highly believed to be a notorious criminal
Musoke had his luck run out when he was located from his hideout in the City outskirts after a tip-off from neighborhood watch vigilantes, according to CMI sources.
He is accused of several tribes of criminal activities which include among others; conning people including highly profile government officials, impersonating as a senior UPDF officer, imposing as a State House operative and posing as a personal buddy to President Museveni.
He also alleged to have severally claimed to be in charge of the land unit under state house, hence swindling Millions of shillings from his unsuspecting victim.
Giita the man
A Corporal by rank, Giita Musoke joined NRA on Aug 7th 1986, though he claims to have joined on December 19th 1983. While attached to 3rd Division some years ago, he reportedly connived with another soldier to steal Shs5m which he used to buy contraband Super match cigarettes.
The then SPRS impounded the cigarettes and the duo were detained at Mbale military quarter guard from where they were paraded before the UDC before being compelled to pay the fine.
When in 77th Battalion in Western Uganda as chief clerk, Gitta removed 60 soldiers from the army strength without authority from his superiors, and made the lives of the victims hard. He after, deserted his unit and ran back to Kampala, claiming he was being witch hunted.
He was later reinstated on the UPDF strength but in March 2003, he reportedly stage-managed a torture scene at Bwebajja along Entebbe road and was later arrested and taken to Mbuya military barracks
He is at one time alleged to have claimed that he had lost his teeth after torture by his commander. But this was discarded after findings that he actually lost the teeth in 1996, while campaigning for DP presidential candidate Paul Kawanga Ssemwogere in Mukono.
His name is alleged to be fixed on a wave of armed robberies in different urban centers around Kampala, Mukono, Jinja, Kakiri ,Masaka and Fort Portal among others.
He is has been crossing to neighboring countries like Kenya where he has been coordinating his alleged criminal activities "The UPDF will uphold its name using the established structures and the likes of Giita will be dealt with," an authoritative UPDF officer told The Investigator this morning.
---
618 Views
---
More Picture(s)