Gen. Jim Muhwezi Katugugu and Minister Mwesigwa Rukutana on the Way out of Elective Politics for Law Practice as They Link Up to Form Crane Law Firm to be Housed in their Newly Bought Plush Kololo Building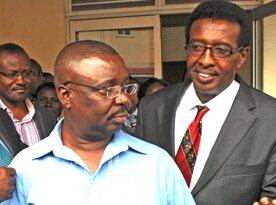 Minister Mwesigwa Rukutana has already announced his exit from elective politics come 2016. Now that celebrated Luweero war General Muhwezi Katugugu has linked up with Rukutana to set up a big time law firm, it leads the curious inference Muhwezi is too throwing in the towel.
Info available to the Investigator has it that the two principals have named their coveted law firm Crane Law Advocates. To keep above the ordinary, the stylish duo bought a multimillion building in Kololo to house their law chambers. They named the building after their law chambers, Crane Building.
Muhwezi graduated a few years from the Law Development Center, after he went to the bush without completing the postgraduate law course, which is a pre-requisite to practice law in Commonwealth member countries.
Rukutana is an old hand at the job. He was a top city lawyer, with his then law firm, Mwesigwa, Rukutana boasting of a fair share of big cases, before he took to politics. When he became minister, his firm slowly went under. He could not practice his trade owing to his busy ministerial busy schedule.
---
963 Views
---
More Picture(s)