BEAUTIFUL AND BRAINY: The Ugandan Cuties Who Have Transformed the World of Hosting and Presenting, Making it Kind of Business for us to Obligatorily Watch them Doing their Charming Stuff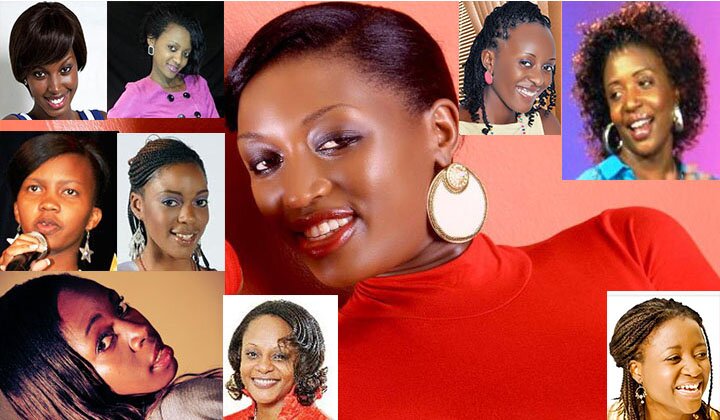 You might be wondering why we are bombarding you with media personalities. Being a World Press freedom week, we decided to honour the people who have changed the face of broadcasting in Uganda. The ladies seem to have taken over the television world and most have attested to be very talented at hosting/presenting. These are the ladies that we, in our opinion think are Uganda's sexiest and best show hosts from within and abroad. And arguably, the sky is definitely the limit for them.
Flavia Tumusiime
Flavia has surely come a long way! She started out as a timid teen on WBS' Teen Show and we can bet not even her person thought she would get as far as she did but what do you know about life? Flavia went on to become one of the most celebrated radio presenters with her Am to Pm show at the Kisementi based Capital Fm. She has also co-hosted a Big Brother Eviction Show and is currently the co-host of the annual award winning Guinness football Challenge on NTV. Flavia has literally 'grown up' under the harsh scrutiny of the media's hounding eye but she has still managed to turn out a pro in this field.
Justin Nameere
NTV's dead drop gorgeous Justin Nameere is a host of their reality show Life stories and she has managed to capture a large viewership with the notorious and heart breaking stories on her shows. Coupled with the good content that her show airs, Nameere's stunning looks have come in very handy and have seen her become Uganda's favorite show host in a period of less than one year.
Sheila Gashumba
She might be the youngest presenter on this list but Carol Sheila Gashumba has rightfully earned her place among the big fish. In the beginning, people did not take her seriously and thought she had landed her role on TV by the mere fact that she was tycoon Frank Gashumba's daughter. But the teenager has proved her critics wrong. Sheila was made for television and her sense of style and confidence has been an added bonus. Her beauty coupled with her recent positive development of extending a hand to the needy will definitely determine her very bright future in the icons' world.
Farida Nambi
Faridah Nambi is referred to as Uganda's Oprah for a reason. Although Faridah's show is aired only once in a while, it left a mark on Ugandans as the first show that was solely dedicated to matters affecting children and women.
Eva Mbabazi
Eva has survived and beaten all the odds that life has thrown her way. Her modeling career was a success until she gave it up for motherhood and in 2008 she survived after she was admitted for having bleeding in her brain. Amidst all that, the woman who revolutionarised Uganda's modeling industry has made her way to becoming a part of one of UK's most watched talk shows, The Sporah Show. She seats in for Sporah every once in a while and she has been so great at hosting that some people have hinted she should probably get her own talk show!
Adella Agaba
She first tried her hand at living her childhood dream of being a TV personality when she took part in Urban TV's Rated Next. She came in the top three automatically landing herself a spot on Game On, a sports show on the same television. Originally Adellah seemed a little shaky, maybe because sports wasn't her comfort zone but she has adopted beautifully and has raised the show's ratings making Game On one of Urban TV's most watched shows.
Maria Namiiro
Mario Namiiro is one of those ladies who have defied the notion that beauty does not go hand in hand with brains. She first took the crown as Miss Uganda UK and finally came home where she was crowned Miss Uganda 2009. After her term of office, Mario did not sit back and fade into oblivion like most of the previous beauty queens. She instead headed back to the UK where she enrolled into school to become an air hostess. She however, momentarily dropped out and opted to go into hosting. She was offered her own show on SKY 182 and 'The Maria Namiiro show' has quickly become a big hit with Ugandans in the diaspora. Now comfortable, she resumed with her course and, the inefatiguable lady has even spared some time to engage in charity work back home in Rakai District
Doreen Komuhangi
This light skinned beauty who hails from Mbarara is a head-turner and yes, she gets people glued to their screens very early morning just, so they can have a little piece of her - such is her beauty! To top it off, she is good at what she does and she knows it. Doreen co-hosts the morning breeze with Simon Njala Kaggwa on NBS and the two have turned the show into a must watch for many.
Robin Kisti
Kisti is the overly hyper host of Login on NTV and she was recently awarded the best newcomer on television by the Radio and TV Awards. At first glance, she might come off as rather too enthusiastic but beneath all that is a talented presenter who goes overboard to make her show as entertaining as possible. And that is the very reason she made to this list of top show hosts.
Leslie Kasumba
She has taken over South Africa's entertainment industry as a celebrated TV and radio presenter, DJ, hip hop artiste and editor for Y-Magazine. The 33 year old Queen of Jo'berg as she is commonly referred to, started out in this industry at the tender age of 19 and with her many talents, she has risen to the top of the ranks in South Africa's entertainment arena.
Joy Kihuguru
She might be married but Joy Kihuguru has not lost her youthful flair. She first hosted the Open Hearts show on WBS and later moved to Urban TV where she presently host 'Let's get Real' show which airs every Sunday. She is beautiful, intelligent and is one of the few women who will openly discuss the sexual issues that teenagers are faced with. She is a beautiful and inspirational mother figure that we couldn't help but applaud for her boldness.
Straka Mwezi
It would be a great injustice if we pen off this list without mentioning the legendary Straka. She has been in the media for over a decade and she is still hosting the show which kick started her career - WBS' Late Show. Her attitude and love for life are what has kept her in the media for so long and if her long stay is anything to go by, she is not going anywhere anytime soon.
As always, this is just our view on the matter and you are entitled to your own opinion, our dearest reader
---
4707 Views
---
More Picture(s)