SUCCESSFUL PEOPLE UNVEILED: Uganda's Top Best Events Promoters and Organisers, MCs, Quality Sound Providers and Why They Have stayed at the top of the Game Yet Still Counting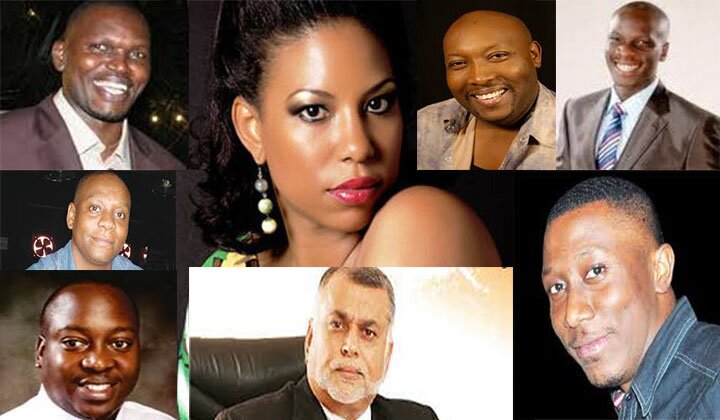 Most of you folks have graced a couple of events that have actually blown your mind away and yes, you have probably wondered who planned every last. Maybe you haven't even paid much attention but there are people who go over and beyond to make sure these events/functions look magnificent, have brilliant lighting and spectacular sound systems.
Let's put aside people like Winston Mayanja, Afro Ssali, Abbitex and the rest of the nighties pack. Today we take you through the guys who have made a career out of events' management, MCs and each time they are the brains behind successful shows. With them, it goes without saying that the event will be triumphant. Read on.
Event Organisers
Ali Alybai
Remember Winston Mayanja? If you don't, let's jog your memory- he was the man who brought some of the best Jamaican and world music greats to town through his Yohannes Inx. After Winston faded into oblivion, there has been only one man who we believe has taken over the initiative and that is the one and only Talent 256 and tight security's soft spoken Ali Alybai. He also at one time co-owned of Club Rouge.
From Sean Paul, Sean Kingston to Shaggy and lots of other renowned bands, Ali has always delivered and is trusted by some of the top corporate companies. He is one of the few event organisers that many will not second-guess when he takes on a project. Without any doubt, the Talent 256 boss is arguably one of the very best events' organizer in town and one of the most trusted by internationally acclaimed musicians.
Elvis, Isaac, and Aga Jr
This trio is famed for organizing some of the biggest events in the country most especially the annual, Ekiggunda Kya Radio Simba. They are hands on people and will normally side-line anything else to make sure everything goes according to plan. They have become very popular in the events' world because they are not the delegating kind of bosses. They have no problem getting their hands dirty and in the end, that's what anyone who is putting up an event wants. They have on various occasions, also proved to be good multi-takers and will take on any responsibility thrown at them and simply roll with the ball. Their down to earth personalities have made them Kampala's event darlings.
Sudir Rupareria
We can hear a chuckle from somewhere, but yes, believe it or not businessman Sudhir Rupareria is one of the best events' organizers. His annual Royal Ascot Goat Race has become the most anticipated and sought-after event of the year. It attracts Kampala's "A" listers and has over the years become Kampala's most celebrated annual event.
Joseph Masembe
Mase Consultants' boss Joseph Masembe has surely come a long way from organizing bar promotions for different breweries to organizing some of the best and biggest events in the country. Remember the Guinness 250 celebrations? Well, this was the guy that gave us what turned out to be the most memorable event last year.
His newest project, 'Uganda's Little Hands Go Green' has once again proved that Masembe is here to stay. Previously he had organized the 'My Kid is a Superstar' and with the success of both events, we can authoritatively state that he is the best man at handling children-related events and it will take several years for anyone to dethrone him in that department.
The MCs
Roger Mugisha
For starters, he is one MC who often does his homework before overseeing an event which is rare in this country. Most MCs think that words will just roll off their tongues and they will get paid at the end of the day but not Roger.
He is eloquent and precise and his sense of humour always sends revellers into bouts of laughter. Rogers' sense of fashion is another plus for him and he is always dressed to impress and this is why he has become Kampala's most sought after celebrity. We would comfortably declare him as the ultimate number one MC in the country.
Uncle Dr. Mitch Egwang
Lately, he has been keeping a low profile, thanks to the issues his Eclipse group has been dealing with in the recent past. The professional Veterinary Doctor commonly referred to as Uncle Mitch is the second best MC in Uganda at the moment. Just like Roger Mugisha, he is always smart and does his homework. However, we would recommend that he try comedy class as his jokes have been recycled over and over again. If you attend three events hosted by Uncle Mitch, we are sure you will know all his jokes by heart!
Isaac Rucci
From being an ace singer with the defunct Limit X group, Isaac Rucci has recently graduated into one of the best MCs in the country and has several corporate companies scrambling for his services. His greatest point is the fact that he is energetic and is always up for any role.
His charisma also works in his favour and he blends perfectly with the audience and always engages them into jokey rhetoric. He will at times surprise his guests with music performance which makes him our number three.
Angela Newman
For a while in the past, one would argue that the best female MC in Uganda was Seanice Kacungira. However, Angela Newman aka Crystal has taken over that mantle and has proved her worth in the field of MCing. Not many women can engage a crowd the way Crystal does and like they say, confidence is the best thing a woman can wear.
And Crystal must have learnt that number one lesson pretty well. Gone are the microphone frights that she had when she had just started out in this industry. She is precise and very eloquent and yes always dressed up to the occasions which puts her, the only female in our category in the fourth spot.
Sound and Stage Providers
Events Ware House
The Ggaba road based Events Ware House is owned by soft spoken Peter Kagwa and so far, it seems like none is comparable to him when it comes to stage and sound equipment. Most people who have used his services say that with them, you can never go wrong.
Peter Kagwa is also a very hands-on boss and you will barely tell he is the boss as he mingles with his employees to get a show up and going. Events Ware House is also Uganda's leading event organizer because the staff are always in tip-top shape and their dress code could be emulated by the rest of the people in the business.
Silk Events
Elvis Ssekyanzi has surely mastered his trade and has been in this field for close to a decade. With this expertise to his advantage, Elvis runs Silk Events like the first class event organizer it is. He might be a hands-on boss but he is still the no-nonsense type and that has also worked for him. His employees are very eager to please him and in the same measure, scared to annoy him. That is a magical combination that has made Silk Events one of the most renowned events' organisers in Kampala.
Fenon Events
Well they are the babies of the events' game but they are giving the big dogs in this field a run for their money. Owned by singer cum producer Steve Jean, and located adjacent to T1 Club in industrial area, Fenon Events has some of the latest sound equipment and is usually faultless, thanks to the expertise of the owner. Because he has been in the music industry for a long time, Steve Jean has easily grown his Fenon Events by organizing events for musicians under his Fenon music label.
Eclipse Events
Though they have been having financial problems lately, the ugly truth is that they are still one of the best event service providers in the country and have made it to our list as the ultimate number four. They are very professional when it comes to weddings and corporate events. However, when it comes to bigger than weddings events, we are sorry but they have every time failed miserably.
Well folks for now, this is our take on the said subject. However, you too are entitled to your own opinion..
---
5643 Views
---
More Picture(s)