BEHIND BARS: Desperate and Chucked Mavado Flop Promoter, Ikoroha Chinedu aka Chin Cee Cee is in Jail for Assaulting an Eritrea National over a Soupy Babe and Richie Kats as Usual Features in the same Yoriyori Mix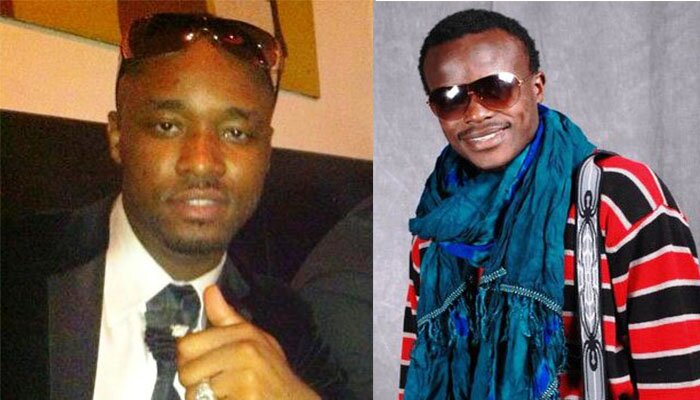 Mavado flop promoter Ikoroha Chinedu aka Chin Cee Cee of Cece Entertainment has been sent cooling in Kabalagala Police cells over assaulting an Eritrean yesterday at club Venom.
Our Pry at Kampala's newest hang out tells us that the whole melee begun when Chin and singer Ritchie Kats, as usual got engaged in an argument over the same babe yet to be identified, in the lower section of the bar.
However a while later, the said Eritrean featured, claiming that Chin had taken his woman. In just a flash the two started throwing blows before the Eritrean took off. But being a martial artiste and former boxer who is as fit as a fiddle, Chin trotted behind the man and sent his a kick that through him into a hard glass of a building, smashing his head in the process.
It is recounted that after Chin saw the blood oozing out of his victim, he retreated and ran back to the main bar. Ritchie Kats, who was still in the vicinity is said to have helped dress the man with his shirt, called in police before rushing the patient to Nsambya General Clinic where he still is.
Contacted this afternoon, Kats confirmed having helped the man but fiercely refuted the said exchange with Chin. "I was walking towards my car when Chin came running after the man and it is true, he kicked him from behind and he knocked the glass. There is no way I could leave the victim by himself because he was losing a lot of blood," Kats said over the phone.
Meanwhile, the police, who are in a stone's-throw from the bar, did not take long to jam the place. They swiftly picked Chin and off with him they disappeared. We can confirm that as you read this, he was yet to be released from the cells.
We are reliably informed that efforts to get him released, even after reaching a deal with the guy's family, have been futile as it requires the victim himself to consent to the compensation terms, a thing he can't do for now that he is still in hospital.
That Chin is not new to fighting for women is an outright fact. The last time, he was involved in another melee at the same club with a Mzungu guy who also had claimed that the estranged husband to wife…. had nipped his Rwandese sexy goddess. Watch this space.
---
2094 Views
---
More Picture(s)