TRYING MOMENTS: Debt-ridden Ruling Party, NRM is caught up in Trouble as It's Bank Accounts in Housing Finance are attached for Failure to Pay Shs120m and also Engrossed in an Ugly Non-payment of Shs3.4bn for Yellow Kits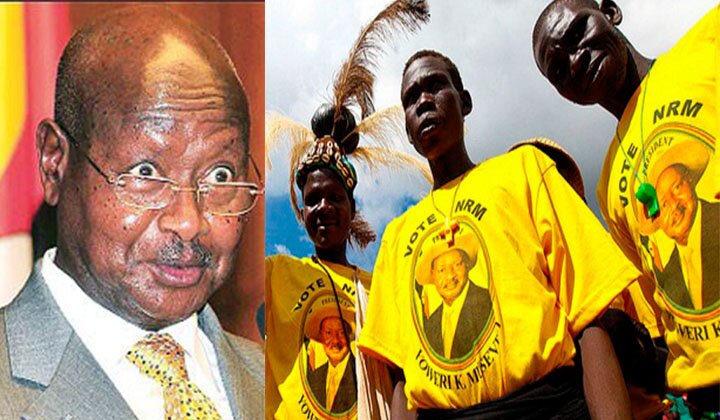 National Resistance Movement Chairman and the Republic of Uganda's President Yoweri Kaguta Museveni can afford to dish out sacks of money. But it appears the ruling Party boss is oblivious of the financial troubles bedevilling his own organisation.
As we ink this piece, the Party's accounts in Housing Finance are frozen, thanks to failure to work on the about Shs120m worth of Laptops, which the Party management bought for its delegates during the last edition of their delegates' conference at Namboole stadium.
We learnt from reliable court sources that the High Court's Deputy Registrar in charge of executions of court decisions, Isaac Muwata issued the order freezing NRM accounts at Housing Finance on the request of the supplier Company, Mobile Computer Limited after they waited for payment to no avail.
Working on an order by Isaac Muwata, also served on NRM officials at Kyaddondo Plot 10- based political facility; the management of Housing Finance have already placed a lid on NRM accounts. As a middle ground and of course, probably fearing for his job, Muwata however provided an escaping route for NRM to explain selves by today, before a final decision is made. But our Bank sources intimated that in the meantime, the accounts remains cocked up.
Meanwhile, an NRM middleman, a one Rashid Lwanga is in trouble after he procured for the ruling Party, T-Shirts worth Shs3.4bn, only the latter to 'forget' about payment. We have gathered that the broker is in trouble after NRM gave him a deal to supply the T-shirts before going on to default on paying.
After waiting for payment in vain, the Dubai based firm, Bright Arrow Trading has lost its cool and taken up the matter with court. In the case before the Commercial section of the High Court, the firm demands payment of a total Shs3,437,750,000 from Lwanga's Kampala Modernity Stationers and Printers.
Info slipping in has it that NRM shopped for the T-shirts during the 2001 elections through the Kampala Modernity Stationers and Printers, paid partly and 'forgot' about the balance all-together. Because, the Dubai firm dealt with Kampala Modernity Stationers and Printers and not NRM, they have gone for the middle man, demanding he pays up.
Cornered to the marrow, Lwanga has instructed his lawyers of Muwema, Mugerwa & Co. Advocates to take on NRM, pleading that it is the end user of the wears that must pay. And he (Lwanga) has since sworn an affidavit, a copy of which we saw, pinning NRM as the end user of the wears in question, demanding that the ruling party be joined in the charge sheet. Watch this space…
---
867 Views
---
More Picture(s)