TURNING POINT: Incarcerated Katuramu Buys off his Shooting Victim Ferri Barbara whom he passed a Fat Cheque through her Intimate Friend before She Jumped from One Media House to Another, Declaring she Has Forgiven Him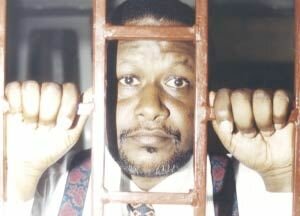 In his fervent efforts to make peace with the people he wronged by killing Prince Happy Charles Kijjanangoma, incarcerated former Tooro Kingdom Premier John Sanyu Katuramu has reportedly paid off the bar owner Ferri Barbara, who was nearly shot dead by his hired hit-men.
Ferri Barbara ran the Fort Portal based Palace View Bar, where Katuramu's gunmen shot amiable Prince Kijjanangoma dead on March 25, 1999. The Prince was happily sipping on his favorite Bell beer, when Katuramu's goons stormed the bar, shooting him to death.
Kijjanangoma was in town to testify against Katuramu, for messing with the Tooro Kingdom properties, after controversially obtaining letters of administration following King Olimi Kaboyo's death in 1993. Kijjanangoma, and his sister Princess Beatrice Bagaya, had also accused Katuramu of having an inappropriate affair with Kaboyo's widow Queen Mother Best Kemigisha. Fearing he was bound to lose the Premiership, along with powers to manage the Tooro vast properties, Katuramu chose to pre-empt the case, by killing Kijjanangoma, the case's main architect.
The killers, who included Alex Twinomugisha, a UPDF 'kadogo' fatally, shot Barbara as well. But she miraculously escaped, before the killers jumped on a Voice of Tooro FM Radio getaway vehicle for a retreat at Katuramu's Rwenkuba farm. At the farm, Katuramu ordered the fattest of bulls to be slaughtered for his fatal errand boys, to celebrate the gruesome feat.
Katuramu as well as his nephew Kwezi have since been sentenced to the gallows, but only saved by the Constitutional Court's land mark ruling that reduced the death sentence to life imprisonment that translates to 20 years. The trigger puller Twinomugisha was poisoned in Luzira, before he could give his story in court.
The latest we have is that Katuramu, who has since given his life to Jesus, has since written a fat cheque and sorted out Barbara. Sources privy to the deal, told us Katuramu gave the compensation to his intimate friend in Tooro Kingdom, to pass it on to his victim.
The courier in question, according to our reliable sources, has been on the forefront of pleading with President Museveni to release Katuramu from prison, but to no avail as yet. And as they say money softens the hardest of hearts, Barbara has since appeared at several FM Radio Stations to declare that she had forgiven Katuramu.
"The trick is to catch the President's ear so he could as well pardon Katuramu since the victim had done so," reasoned our sources. The latest development comes as no surprise. Katuramu has in the past sent emissaries to Tooro Kingdom, as well as leading Batooro personalities, apologizing for his misdeeds.
"I did whatever I did out of greed for material things. But It has since occurred to me that material things are vanity," read one of Katuramu's apologies, sent through emissaries from Luzira Prison, and a glance of which we chanced.
---
1284 Views
---
More Picture(s)